Ork Battlefortress part 2
As promised, here are some more WIP pics on my Battlefortress. The thing with this construction (as with all of my constructions as a matter of fact :P ) is that I didn't have a specific plan in my mind so I cannot post a reliable step by step guide. You'll have to figure things out of the pictures. 
To make things a little bit easier I have dug out some older WIPs (before the armor plates were fixed) to give you an idea what I mean.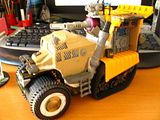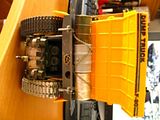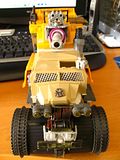 As you can see I have used a ton of bits from various sources including some 1:35 kits (the track system of a Sherman, a british WWII transport (I always forget its name :S) and some Panther tracks (kudos to the Antipope that figured out how I have created the deffrolla with the upside tracks. The thing that he couldn't figure out (and I bet noone can) is the fact that the main body of the deffrolla is taken from AXE Deodorant bottles :P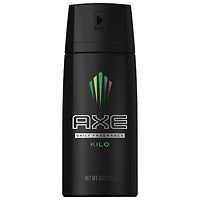 yes, its the top of the bottle ... :P
Hmmm, what else I can remember, ah yes... There is also a toy bulldozer in it, its the yellow parts and I must say that it fit the built perfectly.
So stay tuned for more updates as I continue the search of my Battlefortress dark history... :P