Battlefortress WIP Part 4, time to throw some paint...!
Hi there everyone! I thought that I shoould post the next part of my Battlefortress WIP and this time is painting! 

I thought that from the way the construction went and the shape of the vehicle finalized to a racing overall pattern (you know with the racing fin at the back - hope that I got this correct :P ) I thought that a GO FASTA red Evil Sunz pattern with some nice flames would be appropriate! So there it is, the monstrosity painted up! 
Still there are quite a few things to be touched up and finish the project but more on this on the final part of this WIP marathon! :P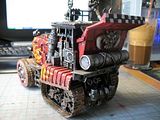 The crew :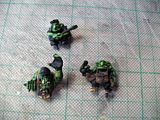 Would love to hear your comments!